St Mary's College and St Virgil's College rowers capped off a stellar season with their annual rowing awards dinner held last Saturday 17 June.
The evening was a wonderful opportunity to acknowledge and celebrate the success and achievements of all rowers and coxes involved with the club this year and included the presentation of the 2023 rowing awards.
The College is thrilled to congratulate Sarah Thomas (Year 9), who was named the joint recipient of the prestigious Saints Rowing Excellence Award (Weisse Family Trophy), which is presented to rowers from the Saints Rowing Club who have achieved a high degree of excellence in the sport.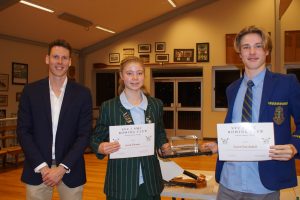 The Head of the River Day Cup is awarded to the crews who secured first place in a Division One final at the Head of the River Regatta. This year's award went to the following students at SMC:
U14: Imogen Stewart (Single Scull)
U15: Sarah Thomas and Abbie Smith (Double Scull), Sarah Thomas (Single Scull)
U16: Madison Mackey (Single Scull), Grace Munday, Sana Ghiasvand, Amelia Dickman, Sarah Gillow (Cox), Bridie McInerney (Quad Scull)
Opens: Claire Oliver, Holly Teale (Double Scull)
Well done to all rowers who received coaches and team spirit awards in each age group. We are very proud of our athletes – you are all great ambassadors of the sport.
A big thank you must go to Director of Rowing, Oliver Wilson-Haffenden, and all dedicated coaches, volunteers, and rowing families for contributing to an outstanding season.