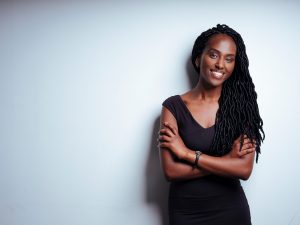 A graduate doctor who is working towards her Master of Public Health and Tropical Medicine, Shewit Belay (class of 2014) is also a talented writer, singer and actress who recently made her stage debut in the Melbourne 2022 season of Hamilton. 
Can you take us through your education and/or training pathway to where you are today?
My journey since graduating from St Mary's College has been eventful, to say the least! After Year 12, I moved to Townsville to pursue my medical studies at James Cook University. I spent four years in Townsville, followed by 18 months in Mackay and then another five months in the Torres Strait for my final medical rotation as a student.
In 2021, I started working as a junior doctor at the Royal Brisbane and Women's Hospital – a challenging but fulfilling experience, especially in the time of COVID-19. I also started working towards my Master of Public Health and Tropical Medicine. Juggling work and study – particularly in my last year – has been very busy, but I've enjoyed the opportunity to broaden my skills and knowledge.
Have you always wanted to pursue a degree in this field? Who inspired or motivated you along the way?
Although I was both academically and musically inclined, I made the decision to pursue mainly science and maths subjects from Year 10 onwards. Around this time, I had been taught by some phenomenal science teachers at St Mary's, two of whom were women. Seeing their commitment to teaching and how that translated into a positive learning environment for me and my peers was a big motivator. Women are, or have been, at least, underrepresented in science, technology, engineering and medicine. I am grateful that my learning environment empowered me to engage with these subjects despite this.
My family is also a significant source of inspiration. My mother always prioritised education and many sacrifices were made by my parents to allow me to complete my schooling undisturbed. The opportunities I have had to study and work I attribute to them completely.
To a large extent, arriving in Australia as a refugee with my immediate family has also coloured my ambitions. There are many ways that refugees have been portrayed in the media with many of these images being negative. I refuse to subscribe to this, and this fuels my determination to exceed the expectations placed on me simply because I am a refugee.
Although I consider myself Australian, I am also a proud Eritrean, and I would like to return to Eritrea to work in the future. I never met him, but the legacy of my late uncle, Dr Semere Fre (a graduate of the Addis Ababa University School of Medicine), is something I endeavour to continue. The likes of Dr Catherine Hamlin, Dr Andrew Browning and Dr Fred Hollows, all of whom have worked in East Africa, are also some of the people from whom I draw my inspiration.
What are your next steps for 2022?
I'm extremely excited to be joining the Australian cast of Hamilton and am currently in rehearsals for the show. It's a big change from my previous job but I'm grateful that I can pursue music in the current climate. I plan to continue working on my Masters and look forward to keeping in touch with my medical side in this way.
You attended St Mary's College from 2003-2014. What did you most enjoy about your time as a student here?
Although there were a lot of changes over the 12 years I was at St Mary's, there were some things that remained the same. One of these was the pastoral care element that was included in our schooling. It contributed to the sense of a familiar, close-knit school community that promoted a culture of friendship and inclusiveness. I'd like to think that I still carry those values and that culture with me wherever I go.
What are your passions/interests outside of study and work?
Outside of my day-to-day, I enjoy spending time with my family, seeing and playing live music, food, skin care, reading and walks along any body of water (but to be honest, the Brisbane River has nothing on the Derwent).
What advice would you give to current students?
1. Don't be afraid to ask for help when you need it – there is no shame in recognising when something is beyond your abilities and getting back-up.
2. Grab opportunities with both hands and keep a steady grip!